This week's assortment of thrifting finds seemed to lend themselves to coffee and dessert, so the staff here at
Plate Addict
decided to invite you to a little party!
Sooo
…we pulled out our blue and white transferware and our best linens and silver to dress things up. I hope you'll join us!
Our co-host this week is our ever-faithful
Baby Kitty
, who is taking a break from his culinary studies at
Le Cordon Blue Paris.
You may recall that he is hoping to land his own cooking show in the future. One of our friends, Kat at
Emptynester,
has even suggested a name for it…
Catatouille!
We like it!
Here's where we found the inspiration for our party…in the inaugural issue of
Flea Market Style
magazine! I was thrilled when I saw the article on
Doing Dishes,
chock full of beautiful blue and white plates! And when I spied
this
photo, my little wheels started to turn!
I decided to make a cake stand from one of my Spode plates from
The Blue Room Collection
. It was a gift from Diane at
Four Paws and Co
last year in her wonderful give-away. I simply hot-glued a cobalt blue sherbet dish to the bottom of the plate. The article suggested using
Tacky Wax,
but I didn't have any. I never can wait to get started, so I just used my trusty glue gun. The lower temperature setting is probably best.
And voilà!…
a wonderful cake stand to match my plates! And do you know what's really wonderful? I realized that I can make one to match
any
of my plates!
Wooo hooo!
How's that for fabulous? And the best thing is that I can simply undo it when the party is over…no harm done! I just separated the pieces and peeled off the glue.
Then I added some of my recent thrifting finds from Goodwill…a silver-plate cake server (
$3.53
), a sugar shaker (
$1.91
) for the cinnamon, a French coffee press (
$1.91
) and finally, another cobalt blue ice-cream dish (all found at
Publix
a while back) to hold my mom's sterling flatware.
The finishing touch is the pair of wonderful silver tumblers filled with grocery-store flowers. Linda at
Nina's Nest
found a set of five of these while we were thrifting, but only wanted three of them…so I took the other two! It was $12.99 for all five…so only about
$2.60
each! I love the detail around the rim…gorgeous! And so vintage-y!
So there you have it…our coffee and dessert party served with thrifting finds! I hope you'll stay and have some lemon creme cake with us (also from
Publix!
Did you think I had baked?
lol
) It looks like it's going to be a beautiful day…see the blue skies reflected in the coffee from my Palladian window?
Ahhhhh!
Thanks so much for stopping by!
I'm getting a little head start on my post because I'll be baby sitting for my new little grandson tonight! Please head on over to Mary's at
Little Red House
for
Mosaic Monday
to see one of her beautiful mosaics and to find a list of this week's participants. You will be treated to some wonderful photos from some very talented people!
Be sure to visit Susan at
Between Naps on the Porch
for
Metamorphosis Monday
where you can get a peek at her gorgeous home and see what sorts of changes she is making, as well as find out who else is playing along!
Then on Tuesday I'll be joining Marty at
A Stroll Thru Life
for
Tabletop Tuesday,
where we show off our vignettes and accessories! Marty is the vignette queen and the perfect hostess for just such a party!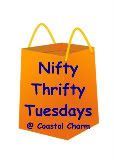 I will also be linking up to a brand new party here in blogland…
Nifty Thrifty Tuesday
with Linda at
Coastal Charm!
Be sure to head over to her blog and get in on the fun as we share our thrifting finds!
And on Friday, I am joining Cindy at
My Romantic Home
for
Show and Tell Friday
where we show off special things from our homes and our gardens! I can't wait! See you next time!
A la prochaine!